Click images to enlarge
Download Brochure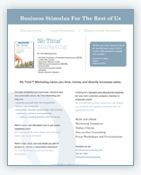 No Time™ MarketingBook Information
Business Stimulus for the Rest of Us
Written for smaller businesses with limited resources but big opportunities, No Time™ Marketing won't insult your intelligence nor waste your time. Author & reputed, "Ms. Marketing", Alyssa Dver, knows and appreciates that you need to get big sales results with as little effort and expense as possible.
Click here to read sample pages from No Time™ Marketing
A quick, no-fluff read, No Time™ Marketing will get you from spinning to winning. The book leads you through an 8 step process which includes 30 minute or less To Do's that are digestible steps to create and implement a practical marketing plan. You get valuable lists and straightforward explanations of marketing tips and ideas so you can confidently decide on the best marketing programs for your business and get on with it!
In no time, you'll get lots of marketing smarts, a renewed business spirit and a plan to rocket your lead generation into hyper-drive.
Available in paperback, eBook, or Kindle format